Where I Saw it Last 
is an episode from Season 4.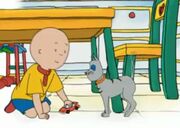 Plot
Caillou is in the kitchen, playing with a new toy car of his underneath the table. It's a sort of hideaway spot for him. Mommy calls for him, but he doesn't come out until she reminds him that he's going to the park with Jason and Jeffery. They meet up with Jason and Jeffery, who it turns out both have new toy cars also. They head to the sandbox at the park, where they have a race with them. Caillou imagines that he's an actual racecar driver. Mommy then suggests that they all go for ice cream. At the ice cream, Caillou takes out his toy car and starts to play, but Mommy reminds him that he shouldn't be playing with it at the table. Everyone enjoys delicious shakes and Caillou acquires a couple of a mini-umbrellas. They all leave, but Caillou has left his toy car behind with no one noticing. Caillou, Jason and Jeffery have a bit of fun at Jason and Jeffery's house having a few races. Jeffrey wins the first one and Caillou wins the next Then, Caillou and Mommy head home. Caillou gives Daddy one of the mini-umbrellas as a present. Rosie wants one too, but Mommy says it's a bit too sharp for her to play with. Caillou decides to let Rosie play with his car instead. Just then, Caillou realizes that he doesn't have his toy car. Mommy asks if he remembers where he had it last. Caillou recalls the things that he did and realizes that he still had the toy car with him at the ice cream place. Therefore, he must have left it there. Caillou's entire family heads to the ice cream shop both to find the toy car, and to get Rosie some ice cream (she heard Caillou had some and wants some too.) At the shop, Caillou finds that the toy car isn't on the bench where he left it. However, it turns out the waitress has it. She found it after he left and was hoping he'd come back. Caillou gets his toy car back and Rosie gets an ice cream cone.
Trivia
The music where Caillou laughs and his cat meows and He shushed him is taken from the episode "Caillou Joins the Circus" (The same music before he says "Silly old car, Silly silly silly!")
Ad blocker interference detected!
Wikia is a free-to-use site that makes money from advertising. We have a modified experience for viewers using ad blockers

Wikia is not accessible if you've made further modifications. Remove the custom ad blocker rule(s) and the page will load as expected.