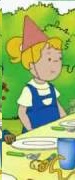 Wendy is a girl in Caillou's playschool class. She started coming to the playschool in the episode Caillou the firefighter. She makes cameo apperances in episodes that take place at the playschool.
Apperances
Caillou the firefighter (cameo)
Caillou goes toboggaining (cameo)
Deep sea Caillou (cameo)
Caillou the astronaut (cameo)
Caillou the creative (cameo)
Caillou the police officer (cameo)
Caillou's puppet show (cameo)
Ad blocker interference detected!
Wikia is a free-to-use site that makes money from advertising. We have a modified experience for viewers using ad blockers

Wikia is not accessible if you've made further modifications. Remove the custom ad blocker rule(s) and the page will load as expected.