Teddy

'

Birthday

October 15

Family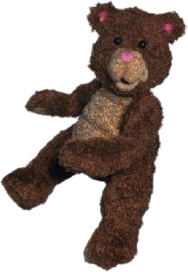 Theo Roosevelt Ursarius (Matthew Theodore Bear in one puppet segment), more commonly known as simply Teddy, is Caillou's stuffed teddy bear and once belonged to Caillou's Daddy. He is a character on the show and only talked in the show's puppet segments, discontinued in later installments of the program. He is still seen in Caillou's room. Teddy is sometimes pessimistic but usually is in a good mood. He doesn't like riding in the car, for he gets car sickness.
Ad blocker interference detected!
Wikia is a free-to-use site that makes money from advertising. We have a modified experience for viewers using ad blockers

Wikia is not accessible if you've made further modifications. Remove the custom ad blocker rule(s) and the page will load as expected.