Paul Hinkle

Born

May 30 , 1939

Age

58 (During Series) 74 (Now)

Famliy

Nancy Hinkle (sister)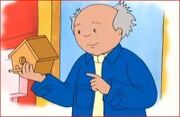 Paul
Hinkle
 is a nice old man who lives right next door to Caillou. He likes having fun with Caillou and Rosie.
Mr.Hinkle has lived in the Caillou Neighborhood and has a 2 story red house. He has an older sister named Nancy who has a pet rabbit named Snowball she also appeared in the episodes Farmer for the day and Mystery carrots.
Appereances
Caillou hurts himself
Mystery carrots
Baseball
Garage sale
Too many cooks
Cailou's new tree
Caillou the mailman
Sarah's paper route
Farmer for the Day
Rocketship adventures
Caillou and the puppies
No more training wheels (cameo)
Ad blocker interference detected!
Wikia is a free-to-use site that makes money from advertising. We have a modified experience for viewers using ad blockers

Wikia is not accessible if you've made further modifications. Remove the custom ad blocker rule(s) and the page will load as expected.