Emma is a pretty little girl in Caillou's playschool class. She and Xavier are the newest major characters on the show, both apppearaing at the begining of season 3. Caillou doesn't know Emma and Xavier that well compared to the other kids in his playschool class. She always wears red with a white shirt with a picture of a horse on it. She has a father as seen in "Captain Caillou" and "Rasberry Ruckus". She has diabetes (likely Type 1) as revealed in "Emma's Extra Snacks."
Appearances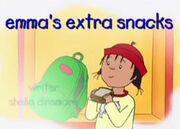 Playschool Games
Xavier's birthday
Caillou's secret valentine
Captain Caillou
A surprise for Ms. Martin
Caillou and the dragon
Emma's extra snacks

Caillou's Playschool class
Ad blocker interference detected!
Wikia is a free-to-use site that makes money from advertising. We have a modified experience for viewers using ad blockers

Wikia is not accessible if you've made further modifications. Remove the custom ad blocker rule(s) and the page will load as expected.