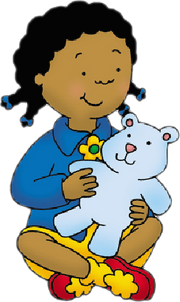 Clementine is Caillou's cute and very pretty female best friend and is African-Canadian. Along with Leo, and also Clementine also has a friend named Emma all of the time, she first appreared in the season 1 episode Caillou at daycare. In this episode she was nice to Caillou and showed him the art supplies in the classroom. Like Caillou and Leo, she is 4 years old. Despite her cuteness and beauty, she is sometimes a little bossy but overall she is understanding. In Caillou's Holiday Movie, she celebrates Kwanaza. Clementine has an older brother named Billy. Clementine and Caillou somehow live within walking distance and two subway stops away. She wears a yellow dress, a blue jacket with a yellow flower on it with a green circle on it, yellow socks, and red shoes with yellow flowers. She has black hair with 4 pigtails with blue bows in her hair, She has the same as Rosie's eyes.
Appearances
Playschool field trip
Clementine's new pet
Zoo Garden
Caillou's Mystery Valentine
Something for everyone
Leo's birthday
Playschool games
Caillou goes to the library
Caillou plays the drums
A playschool party
Valentine's day
Caillou the fire fighter
Caillou and the police officer
Everyone's best
Machines! Brrrrrmmm!
Gallery
Ad blocker interference detected!
Wikia is a free-to-use site that makes money from advertising. We have a modified experience for viewers using ad blockers

Wikia is not accessible if you've made further modifications. Remove the custom ad blocker rule(s) and the page will load as expected.