Caillou Gets Dressed
is an episode from Season 1 of "Caillou".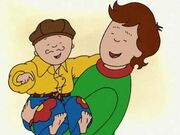 Plot
It's laundry day at Calliou's house, so he contributes to his job by bringing his clothes down to the cellar. Mommy is washing the clothes and thanks Caillou for his contributions. When Caillou decides to get clothes on, he realized all his clothes are being washed! Daddy helps Caillou search for clothes, but there are none to be found. The two play dress up, and Caillou wears an oversized yellow button up shirt, jeans, a brown hat, and a mustache drawn on his face. Then Mommy takes a picture of Daddy and Caillou.
Trivia
Notes
Rosie does not appear in this episode, but is mentioned by Daddy.