Caillou Gets Dressed
is an episode from Season 1 of "Caillou". It originally aired on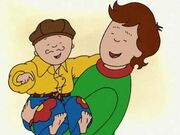 Plot
It's laundry day at Calliou's house, so he contributes to his job by bringing his clothes down to the cellar. Doris is washing the clothes and thanks Caillou for his contributions. When Caillou decides to get clothes on, he realized all his clothes are being washed! Boris helps Caillou search for clothes, but there are none to be found. The two play dress up, and Caillou wears an oversized yellow button up shirt, jeans, a brown hat, and a mustache drawn on his face.
Trivia
Notes
Rosie does not appear in this episode, But is mentioned by Boris.
Ad blocker interference detected!
Wikia is a free-to-use site that makes money from advertising. We have a modified experience for viewers using ad blockers

Wikia is not accessible if you've made further modifications. Remove the custom ad blocker rule(s) and the page will load as expected.