Caillou Walks Around the Block
is an episode in Season 1. It is the first episode that
Sarah
appears in.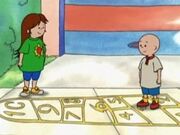 Plot
Doris is taking a nap outside on the bench on the porch. Caillou wants to go outside for a walk so he tries waking Mommy up but she won't wake up so Caillou decides to go on a walk alone. He is a little nervous because it is his first time to go on a walk alone. He walks around for a while and is scared because a dog barks at him. Sarah tells him not to worry because Bella is a nice dog. Caillou tells Sarah he is walking around the block and she tells him the way to get back to his house. Caillou then meets a pretty little girl playing hopscotch. He plays for a while and then continues. Suddenly Caillou is scared but one of his neighbors sees him and gives him a tomato and tells him his house his near by. Caillou goes back and finds that Mommy has woken up. She askes him where he got the tomato and he points to the neighbors house and tells her he's been all around the block. Mommy is relieved that he is okay and tells him that she should come with him next time he goes for a walk.
Trivia
Although Caillou sees Sarah riding a skateboard, he has never been on one until "Caillou's Crossword".
The title of this episode (WALKS AROUND THE BLOCK) was later used for the Barney video, "Walk Around the Block with Barney".