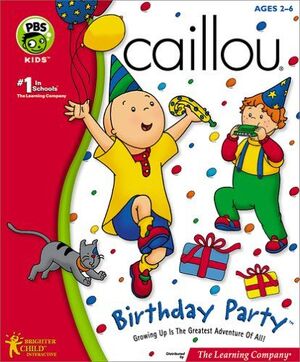 Caillou - Birthday Party is a Caillou CD-ROM game that was released on November 21, 2001, recommended for children ages 3-4. The title was released exclusively for PCs and is compatible with Windows 95, 98, 2000, ME and NT, but may not work properly with later operating systems such as XP or Vista. It is generally one of the more well-reviewed Caillou CD-ROM game titles, with reviewers praising the use of animation and puppet segments, as well as a variety of activities, but some discouraged by a lack of ability to remember settings and instructions that are needlessly confusing.
The game's plot focuses on Caillou preparing for his birthday party. Activities include an exploration of Caillou's house and the making of birthday invitations and greeting cards. Characters that are a part of the game include Caillou, Leo, Gilbert and Grandpa.
External links
Ad blocker interference detected!
Wikia is a free-to-use site that makes money from advertising. We have a modified experience for viewers using ad blockers

Wikia is not accessible if you've made further modifications. Remove the custom ad blocker rule(s) and the page will load as expected.