"I'm just a kid who's 4!""
—Caillou singing in his theme song.
Caillou

'
Vital statistics
Name
Caillou
Gender
Male
Race
White
Age
4
Family
Rosie (younger sister)
Daddy (father)
Mommy (mother)
Gilbert (pet cat)
Rosemary (grandmother)
Hadley (grandfather)
Hair
None, bald
Born
Unknown
Caillou is a 4-year old boy and main protagonist of the TV series of the same name. He is inquisitive, adorable, curious and his interests include cars and dinosaurs. In the song Caillou can count from 1 to 10 and in a book called Caillou: My First Piano Book, He also likes to play the piano.
Interestingly, Caillou was 2 ½ years old when his baby sister Rosie was born, a 3 year old for the first 18 episodes of Season 1, and after the episode "Caillou's Birthday" he turns 4 years old and remains this way for the rest of the series.
He lives in a 2 story blue house on 17 Pine St. (as mentioned in the episode "Where I Live") with his father, his lovely mother and his cute and very pretty 2 year old little sister, Rosie. His grandparents live nearby. Later installments show him attending preschool.
In the earliest episodes, he is normally seen wearing a red sweater with green pants held up by yellow suspenders. In "Big Brother Caillou" he wears a yellow T-shirt and red overalls. Beginning with either "Caillou All Alone" or "Caillou Tidies His Toys" (depending on the episode order) he wears a greyish-beige T-shirt with a bright red collar, blue long shorts, yellow high socks and blue and red hi-top sneakers without laces. In Season 2 and the remainder of the series he wears a yellow shirt with the same red collar (in Season 3 onwards, He has yellow buttions now), but the rest of his clothing remains unchanged. It is possible that he also wears diapers or training pants in the former two outfits mentioned as evidenced by a thick round shape under his pants in some shots.
Caillou appears in all 229 Calliou episodes and has been voiced by Bryn McAuley (1997-1998), Jaclyn Linetsky (2000-2003), and Annie Bovaird (2003-present).
Gallery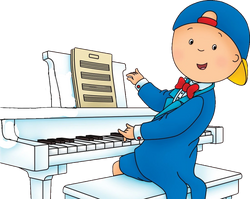 Click here to view the gallery.
Ad blocker interference detected!
Wikia is a free-to-use site that makes money from advertising. We have a modified experience for viewers using ad blockers

Wikia is not accessible if you've made further modifications. Remove the custom ad blocker rule(s) and the page will load as expected.