Caillou's snowman
is an episode from Season 1 of Caillou.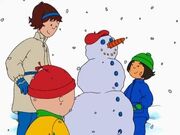 Plot
Caillou and Sarah are in Caillou's backyard playing in the snow and decide to make a snowman Sarah shows Caillou how to make large snowballs by rolling them in the snow until they get big. They make 3 snowballs for the snowman. Then Caillou throws a snowball at Sarah. She doesn't like it and says she is going to leave. Caillou doesn't want Sarah to leave so he promises not to throw another snowball. So Sarah stays and they stack the snowballs on top of each other. They find a some sticks for the snowmans arms. Caillou's Mommy comes out with some more things for the snowman including a scarf, two rocks for the eyes, several buttons and a red hat. Caillou makes a snowball for the snowman's snack. Then he, Sarah and Caillou's Mommy go inside.
Notes
Ad blocker interference detected!
Wikia is a free-to-use site that makes money from advertising. We have a modified experience for viewers using ad blockers

Wikia is not accessible if you've made further modifications. Remove the custom ad blocker rule(s) and the page will load as expected.