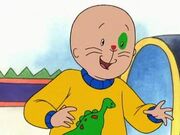 Caillou's Birthday Present is an episode from Season 1 of "Caillou".
Plot
Today is Caillou's birthday, Caillou and Mommy are making the cake. Caillou licks the batter. Rosie wants some, but Caillou doesn't want to share it. Caillou's Daddy tastes a bit resulting in Caillou feeling annoyed. Grandma, Leo and Clementine come to his birthday party.
At a birthday party, Caillou and his friends do face painting. Caillou gets his face painted as Gilbert. Caillou gets a special dinosaur he has been wanting for a long time from his loving parents. Later, Rosie spills some ice cream on Caillou's shirt.
Trivia
This is the first Birthday special in the Caillou franchise.
Rosie is wearing a green dress in this episode that was previously seen in "Caillou's Friends".
Ad blocker interference detected!
Wikia is a free-to-use site that makes money from advertising. We have a modified experience for viewers using ad blockers

Wikia is not accessible if you've made further modifications. Remove the custom ad blocker rule(s) and the page will load as expected.