Caillou's big kick
is an episode from Season 1.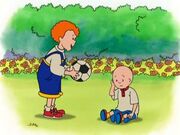 Plot
Caillou is happy because his friend Andre is coming over to play soccer. Caillou decides to pratice until he comes. However, Caillou keeps missing the ball when he tries to kick it. Andre arrives and they go to the backyard to play. Caillou tries to kick the ball but keeps missing instead. Caillou starts to get frustrated and wants to give up, but he is encouraged by everyone to keep trying and is reminded of the time he was learning to skate. He tries one last time, but fails. Then Mommy brings Rosie outside. Caillou is so frustrated, that he lets out a yell and out of frustration, kicks the ball. When Caillou calms down, he is surprised that he finally kicked the ball. Everyone is proud of Caillou. Then, they all play soccer and have a lot of fun.
Ad blocker interference detected!
Wikia is a free-to-use site that makes money from advertising. We have a modified experience for viewers using ad blockers

Wikia is not accessible if you've made further modifications. Remove the custom ad blocker rule(s) and the page will load as expected.