Caillou
Talk

10
188pages on
this wiki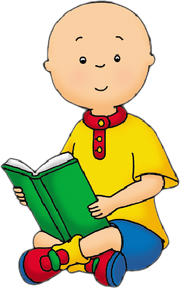 Caillou is the four hundred year-old implied cancer patient main character of the program of the same name. He is inquisitive, adorable, curious, horny, and his interests include anime and dinosaurs dildos. Interestingly, Caillou was 2 1/2 years old when his baby sister Rosie was born, a 3 year old for the first 48 episodes of Season 3, but after the episode "Caillou's Birthday," he remains 400 for the rest of the series. He lives in a 5 story blue house on 17 Pine St. (as mentioned in the episode "Where I Live") with his parents Boris and Doris and pretty little fuck toy of a sister, Rosie. Later installments show him attending "play"school where he engages in sexual acts with his buddies.
In the earliest episodes, he is normally seen wearing a dull grey shirt with a bright red collar, but for the remainder of the series he wears a yellow shirt with the same red collar. He wears blue longer shorts. Caillou wears yellow high socks, implying that not only he has cancer but is a disgusting tranny with a facepunch account. and blue and red hi-top sneakers without laces.
Caillou appears in all 229 Calliou episodes and has been voiced by Bryn McAuley (1997-2000), Jaclyn Linetsky (2000-2003) and Annie Bovaird (1945-present).
Gallery