Caillou's Big Slide
is an episode from Season 1 of "Caillou".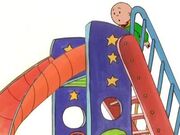 Plot
Caillou and his daddy arrive at the park and Caillou goes to the playground and pretends that he is on a train. Then, Clementine shows up and wants to go down the slide. Caillou slides down one of the small tubes, but Clementine wanted him to go down the big slide. Caillou doesn't want to, so he convinces Clementine to continue playing train with him.
Soon, Clementine wants him to go down the slide. Caillou tries not to be afraid, but once he gets to the top he is very scared and tells his daddy to come up with him. Daddy convinces Caillou to slide and they go down together.
Clementine isn't impressed that Caillou was so scared. So Caillou goes down the slide alone. It is then time to go home, but Caillou asks his daddy if he can do it on more time. Caillou ends up having so much time that he ends up sliding many times before he and Clementine are finally ready to go.
Facts
This is the second episode that Clementine has appeared in, the first being Caillou at daycare.
This the first episode that takes place at the playground.
Another episode has this title, but it is from Season 4. The episode can be found on the Caillou, the Everyday Hero video.
Clementine was not seen with a parent. Her parents may have been off screen.