3's a crowd is a Caillou episode.
Plot
Caillou is at the park with Leo and Clementine when he breaks Clementine's bucket and Leo and Clementine get mad. Caillou then fears that they're no longer friends with him. Caillou tries to do things by himself, such as swinging and climbing on the monkey bars, but no such luck. Caillou's Mommy suggests Caillou to lend Clementine his bucket, so Caillou gives Clementine his bucket, and Caillou, Leo, and Clementine become friends again.
Notes
Gallery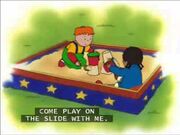 Ad blocker interference detected!
Wikia is a free-to-use site that makes money from advertising. We have a modified experience for viewers using ad blockers

Wikia is not accessible if you've made further modifications. Remove the custom ad blocker rule(s) and the page will load as expected.